"Run this Town" Review: Film shows differing perspectives on controversial mayor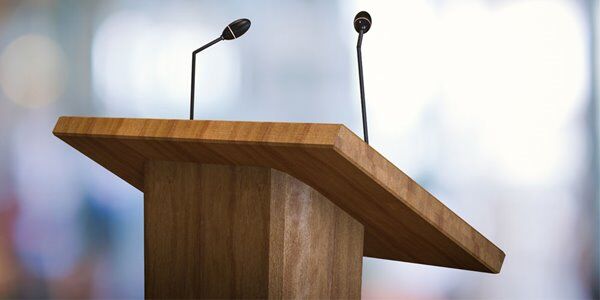 By John Hanlon
There are some politicians that seem over-the-top and outlandish to the outside world. Rob Ford, the former Mayor of Toronto, seemed like one of those leaders when scandals plagued his office a few short years ago. Controversies surrounded him during the latter years of his tumultuous administration.
The new film Run this Town — which features an unrecognizable Damian Lewis as the politician — is less interested in the fall of Ford than it is understanding the political and media landscape he thrived in. To showcase that world, writer/director Ricky Tollman created fictional characters in his script to tell his story.
Mayor Rob Ford isn't the main character here. He's a supporting player in this complicated drama.
Ben Platt, who played an over-the-top candidate in Netflix's The Politician, plays a young reporter named Bram here. The story oddly begins by showing Bram getting a job in journalism but then quickly flash-forwards to a year later when Bram gets sick of writing popular listicles and wants to explore real news. He gets a tip about the mayor's private behavior and tries to make the story his, attempting to earn credibility at the outlet he writes for.
It's here where the feature attempts to explore journalism from the vantage point of a naïve millennium. That concept seems interesting enough but the story suffers when directorial choices detract from the plot's forward movement.
The film suffers when writer/director Ricky Tollman fails to build tension during crucial sequences. For instance, a secretive meeting between Bram and an informant at a laundromat poorly sets the stage for a possible headline-grabbing story. Instead of finding a new way to showcase the scene, the camera continually turns to the washing machine, lessening the urgency of the sequence.
In a seemingly separate story, Mena Massoud co-stars as Kamal, a special assistant to Mayor Ford. Kamal understands the political world and knows how Ford wants him to play the media. He even brags to Ashley (Nina Dobrev), a political aide, about his successes.
There's a method to the way they prop Ford up and keep his message front and center and the film shows the mayor personally connecting and engaging with his constituents. It also shows him from another angle, hinting at his substance abuse issues and his personal failings: problems that members of his staff reportedly witnessed firsthand.
The dueling perspectives of Bram and Kamal, two young men who view the Ford administration from differing perspectives, is intriguing. There are scenes here that show why both perspectives are valuable in understanding how both the media operate and how political figures succeed.
There were two sides to the situation fleshed out in this fictionalized take of a true story: journalists who heard rumors about the mayor's improprieties but didn't fully pursue them and political aides who overlooked the mayor's many faults to keep the city running.
Although Tollman could've presented a traditional narrative here, he mixes it up by delving into the messiness of politics and power. There are few heroes in this film. All of the characters make mistakes and even those with good intentions are undermined by their own bad decisions. The scandals of the Rob Ford administration are well-known but here, Tollman tries to present something more subtle and nuanced.
By focusing in on two specific characters and their respective journeys, Tollman shows how difficult it is to thrive in the media and in the political world. There are dangers and temptations in both fields and if a person makes a wrong decision, they could be threatening their entire careers.
Run this Town undeniably has shortcomings and could've used some clear editing but its overall goals are admirable and its decision to not play it safe makes it worth checking out, especially for viewers looking to better understand how people like Ford are able to thrive in public life.